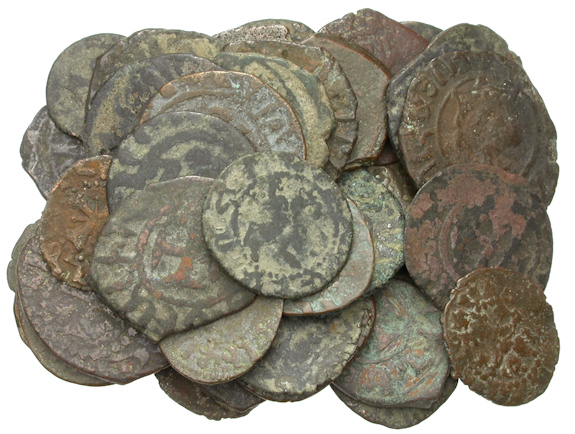 KNIGHTS TEMPLAR -- Crusader Coins 11th - 12th century
Found in Templar graves in various locations.
Hetoum II reigned three times. After a few difficult years of losses to the Mamluks, he ended his first reign by abdicating in favor of his brother Thoros III and entering a monastery. Two years later Thoros III asked Hetoum to take the throne again. While Hetoum was in Constantinople, his brother Smpad, ended his second reign by usurping the throne, and blinding and imprisoning him upon his return. Constantine, another brother, who had aided Smpad, then usurped the throne and freed Hetoum. Regaining his sight, Hetoum took the throne a third time. After more disasterous losses to the Mamluks, Hetoum abdicated his third reign, passing the crown to Thoros's teenaged son, Leo III, and retiring to a monastery.
Copper kardez, cf. Nercessian 398, VF, flat strike areas, weight 3.392 g, maximum diameter 22.5 mm, die axis 0o, Sis mint, 1289 - 1293 A.D.; obverse Armenian inscription: Hetoum King of the Armenians, facing bust of Hetoum II, wearing crown; reverse Armenian inscription: Struck in the City of Sis, Patriarchal cross with floral ornamented base. Other variations; I will select three coins for you, with co-resonant psychometrics.
Great for use with SuperBeacon, these connect up very readily with Parallel Universe Branes.
$450.00 for three POWER-PACKED PSYCHOMETRIC coins -- Comes 3-up in a gorgeous velvet presentation box