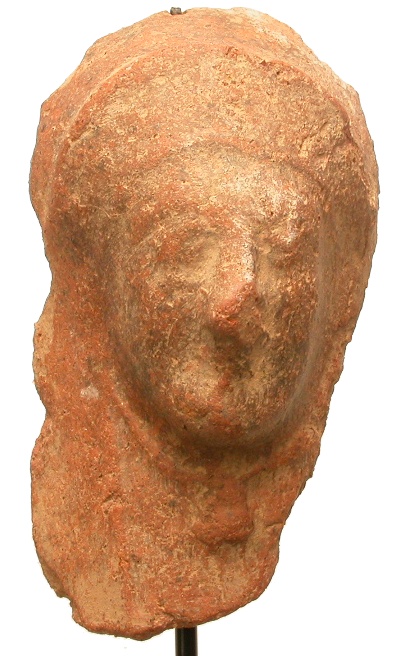 Greek Archaic Period -- Terracotta Protome Head, 5th Century B.C.
Protome Head, 3 1/2" tall -- light-colored terracotta; protome head of a larger statuette, wearing amulet on necklace, VERY Archaic, mounted on black base, very very rare and fine for its type.
You might well have had this in your home back in the day; sometimes they were brought to the temple as votive offerings.
A recent Christie's auction featured a similar head. These are not common, but several have found their way to the auction block over the past few months.
Perhaps you recognize that Archaic smile, after all these years??? She's a bit worn, but wouldn't you be after almost 3,000 years??? It might be time to reclaim her and reconnect with this very ancient past life among the Archaic Greeks.
The fact that this is already mounted on a base makes it easy; it's very expensive and difficult to mount these properly.
$750.00