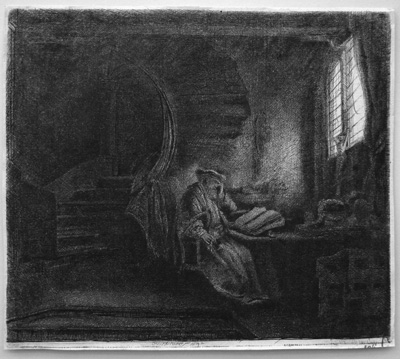 REMBRANDT -- St. Jerome in a Dark Chamber
Signed and dated Rembrandt f. 1642, Amsterdam.
W/B 105 SECOND STATE.
A fine, rich, very dark impression printed with tone on paper bearing the 7 Provinces watermark, thus proving it to be 2nd State and not later.
Important Provenance, from the G.C. Freund Collection, Theodore Donson Collection (he is considered the world's greatest expert on Rembrandt and wrote the major books on Rembrandt etchings); reference: Lugt 953.
A very important piece out of a very important collection, this is unusually fine and relatively early in the 2nd State run for this print; seldom seen this rich and fine with all the details clear and sharp.
$18,500.00