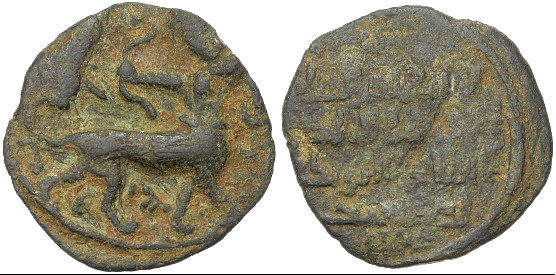 RARE -- CENTAUR Shooting Bow & Arrow -- Islamic, Urtukids of Maridin, Nasir al din Urtuk Arslan, 1201 - 1239
Islamic, Urtukids of Maridin, Nasir al din Urtuk Arslan, 1201 - 1239
Bronze dirham, Mitchiner WOI 1047, Album 1830.2, F, Mardin mint, weight 5.750g, maximum diameter 27.0mm, 599 AH; obverse Centaur walking right, turning around and drawing bow, mint and date around; reverse Caliphal legend of Al Nasir and Ayybid Al'Adil with Urtukid title in five lines; HIGH PSYCHOMETRIC & RARE NUMISMATIC; OF UTMOST RARITY THUS.
You can see the centaur (half man, half horse) looking over his shoulder as he fires his raised weapon over his own tail.
This is a coin you can search for years and not find. It was thrilling to get this for you!
$399.00